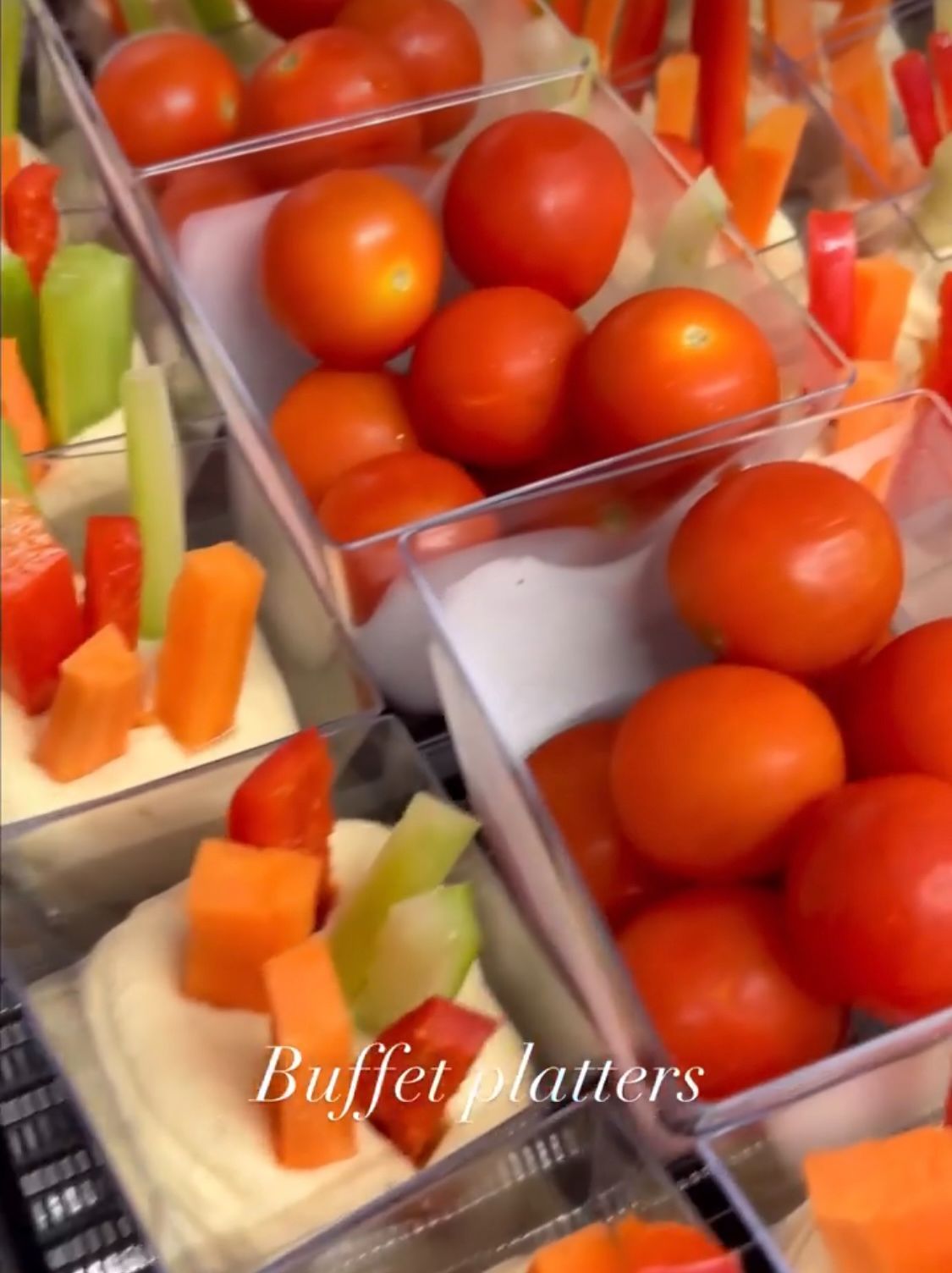 We've catered for weddings, baby showers, wakes, birthdays, parties & corporate events.
We can help you to make your special ocassion even sweeter......
Either give us a call on 01279 411774 or, better, come in & say hello and tell us what you're after.
We can offer sandwich platters made using our home made breads & a range of fillings:
Traditional breads: White Farmhouse or Bloomer, six seeded, wholemeal, sourdough, gluten free. Speciality breads include beetroot, spinach & celery, date & walnut, corn, stilton & raisin, focaccia.
Filling choices: cheddar with onion chutney, chicken salad with mayo, ham salad with mustard mayo, egg mayo with cress, tuna mayo with sweetcorn, smoked salmon with cream cheese, hummous with roasted veg/peppers, coronation chicken, prawn with rose marie sauce, bacon with lettuce, tomato & mayo, brie with chilli jam.
We can cut the bread to your preference, thin for 'dainty' sandwiches, or medium/thick for a more filling option. Sandwiches can be cut into fingers or triangles and presented plattered ready for you to serve or packed in boxes for you to arrange onto your own serving dishes.
Boxed option £3.75 per round, plattered £4.50 per round
Triangle cut sandwiches give you 4 triangles per round, finger shaped sandwiches gives you 3 per round.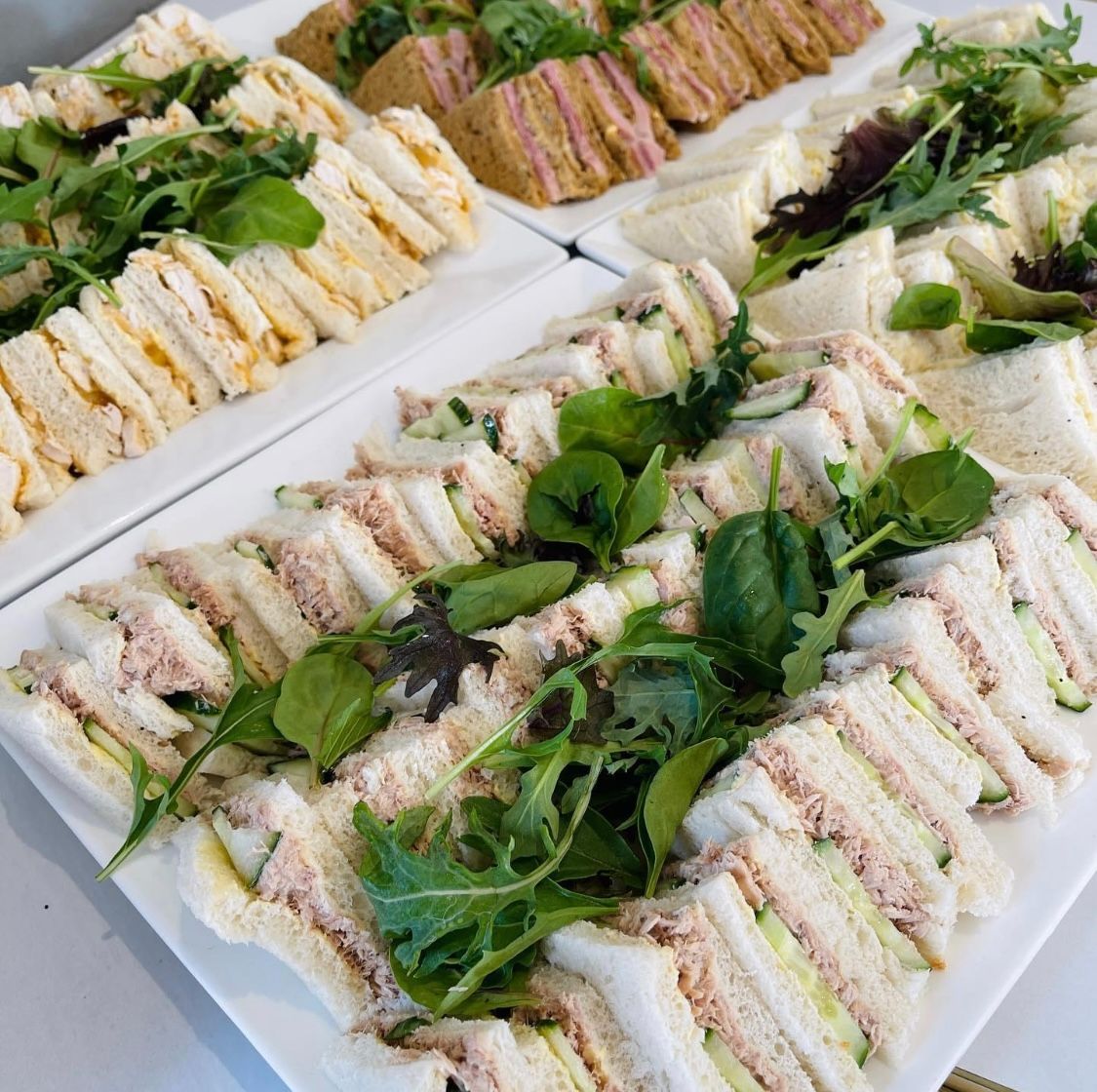 Cheese straws. Each, £1.20 whole, 60p half size - as shown.
Rosemary and garlic focaccia. £3.25 per 400g loaf, 16 portions, size as shown.
Quiche: One of our most popular products, which can be provided whole or portioned. A whole quiche will provide 8 good sized 'lunch' portions or 16 finger food slices. The finger food slices are pictured here. Fillings: Asparagus & red pepper £23.95, pear & stilton £24.95, smoked salmon & samphire £24.95, bacon & mushroom £23.95.
Our signature sausage rolls, baked here in our bakery, they are made with puff pastry and have a high pork meat content filling. We can make them in standard or cocktail size. Each £1.95 standard size, 65p cocktail size as shown.
Savoury Madeleines, parmesan and rosemary flavour £1.25 each.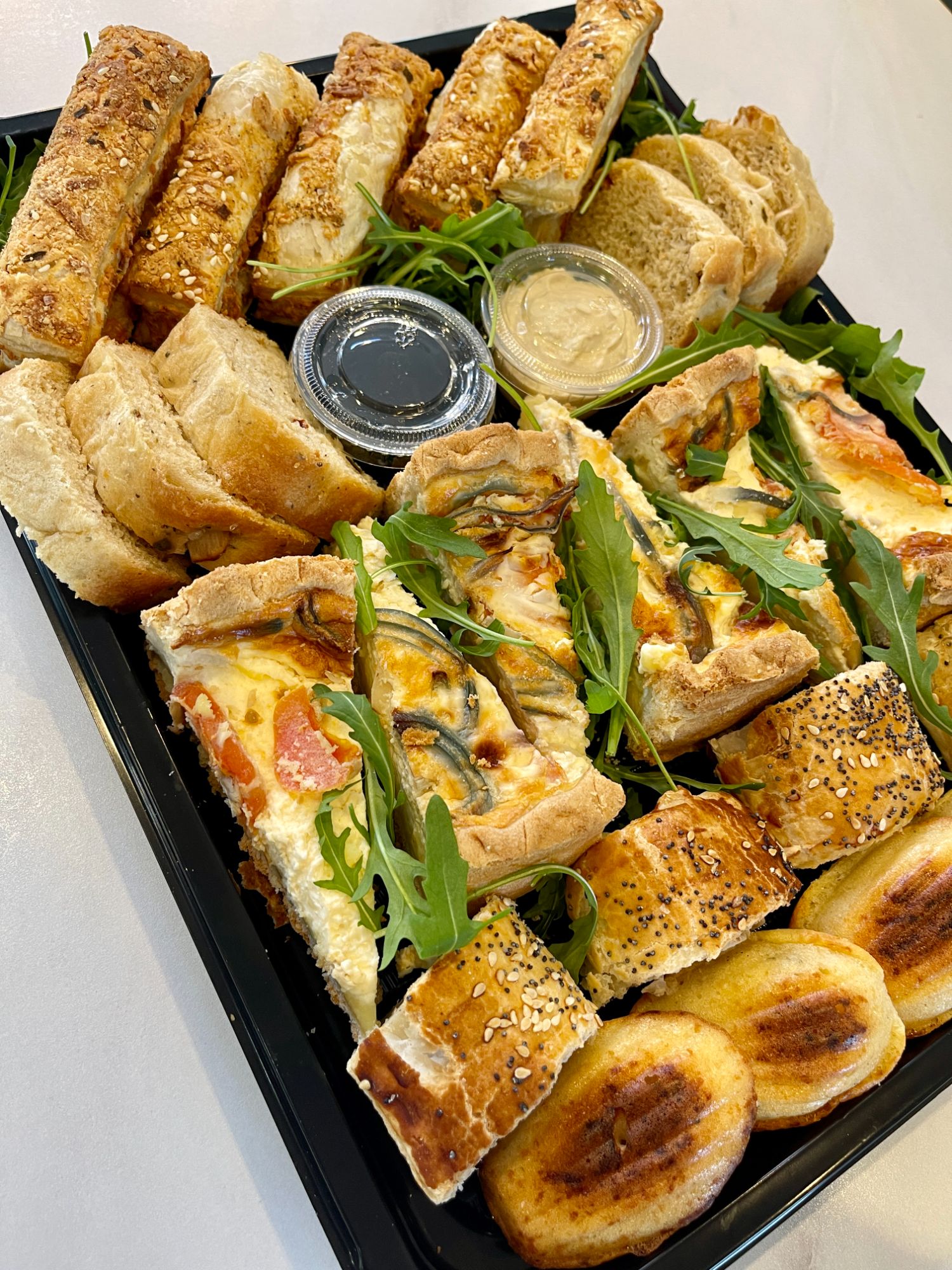 Grazing platters - tell us your likes and dislikes, how many people you are catering for and your budget. We'll do the rest.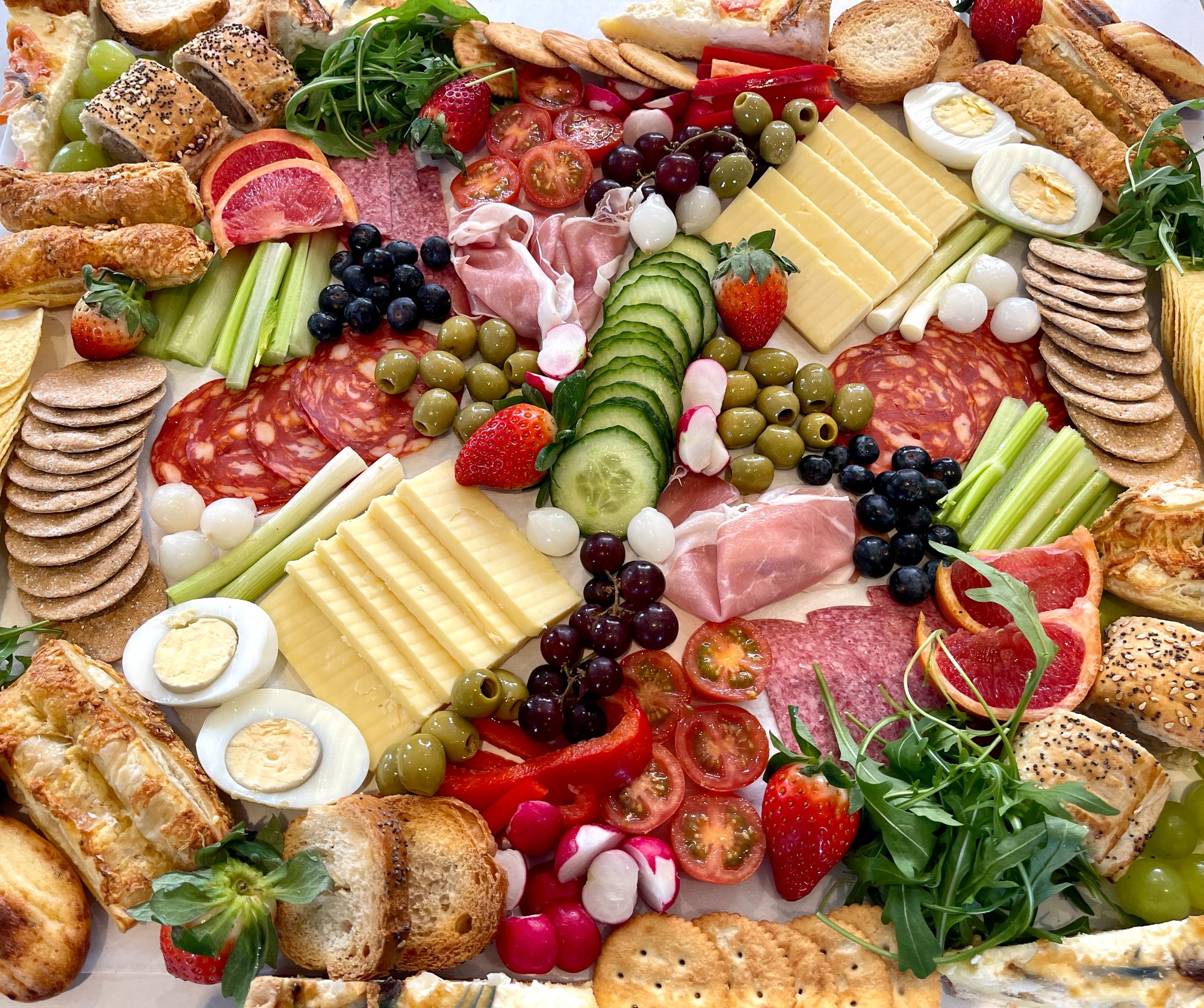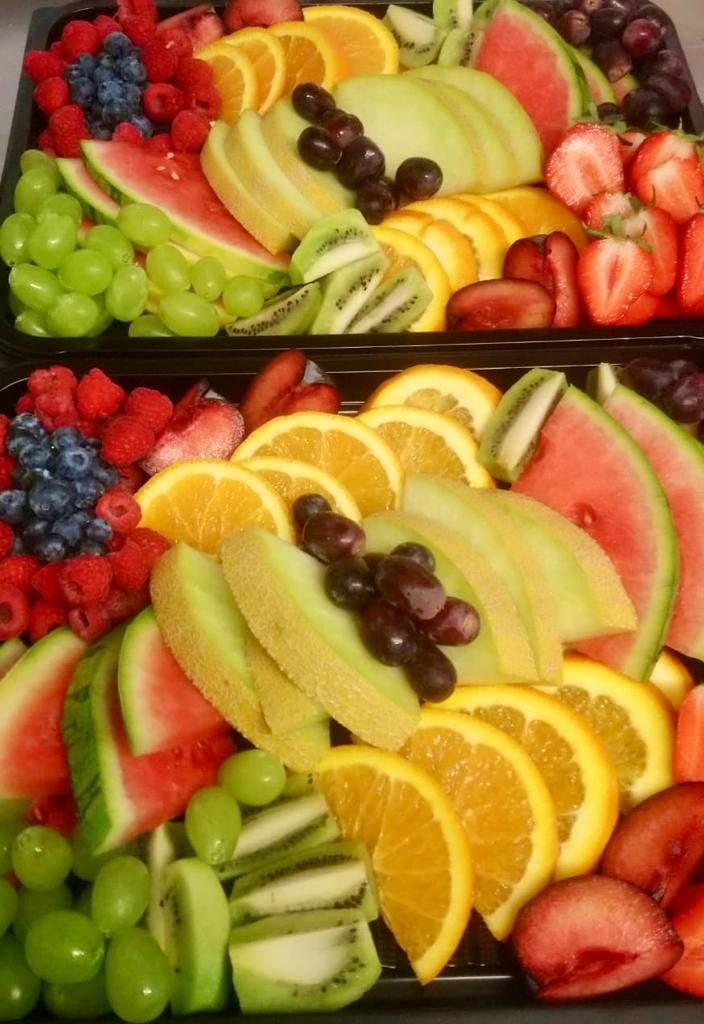 Not only the healthy option but they look fresh, inviting and fabulous!
As with our grazing platters, tell us your likes and dislikes, how many you are catering for and your budget. We'll do the rest.
Sweet Platters & Dessert Tables
Sweet platters and dessert tables really add that special something to any occassion. They make an impact and set that feel good, positive mood for the event.
Tailor your desserts (or tiny treats) to your event theme. We can provide retro style comfort food - think bread pudding, brownie & carrot cake bites - to something more showy, including a statment centre piece celebration cake and co-ordinating confectionery.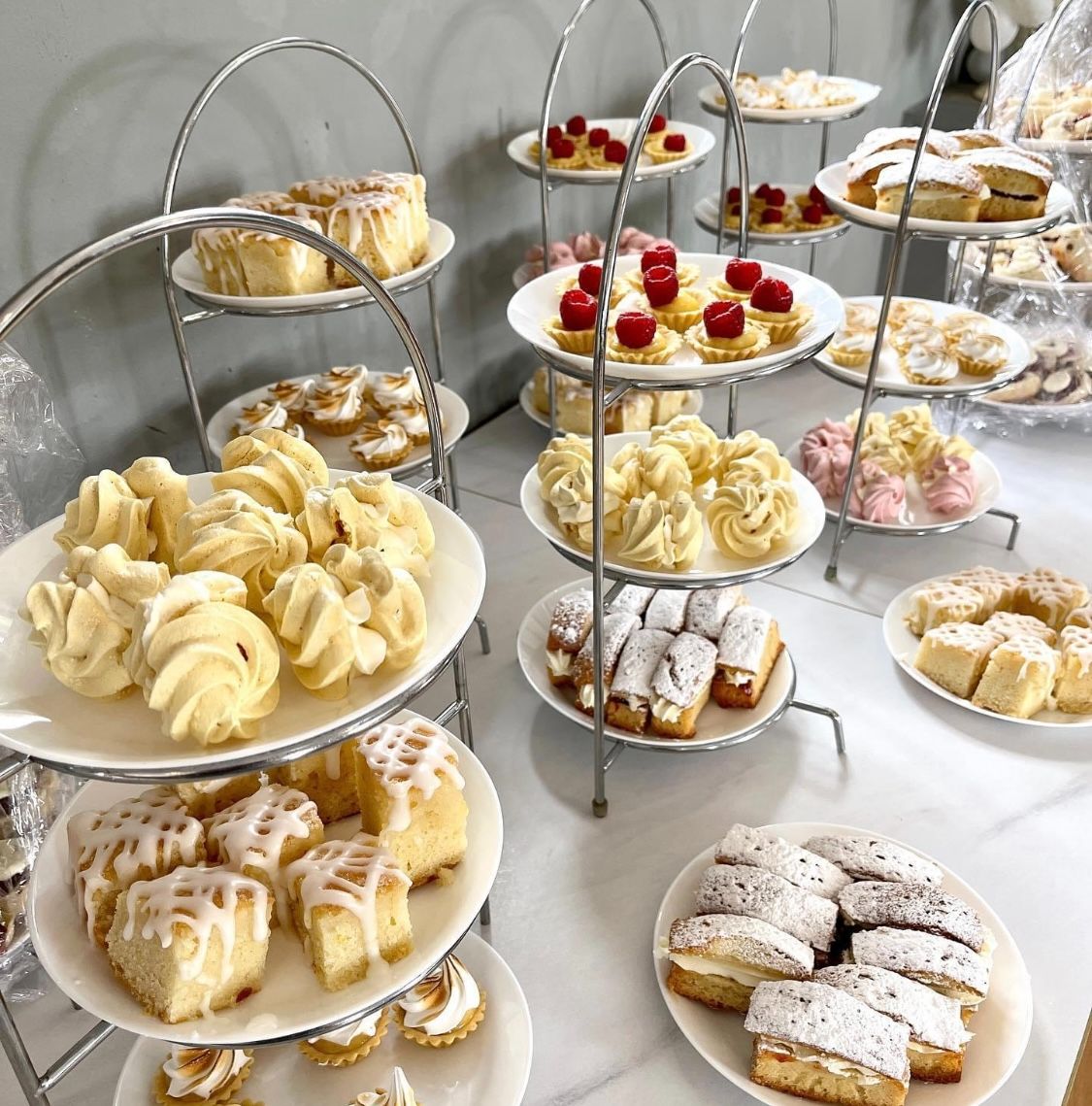 Light & colourful addition to your dessert table. Traditional macaron & cream filled meringues. Baked to match your event colour scheme. £1.50 each.
These are always a winner, particularly with children, and can be themed to the occasion. Cakesicles from £2.35 each
Perfect for your buffet dessert table, we have something for everyone. Shown here Fudge Brownie Sundae, Panna Cotta, Strawberry Cheesecake, Chocolate Mouse, Lemon Meringue Sundae
£1.50 each.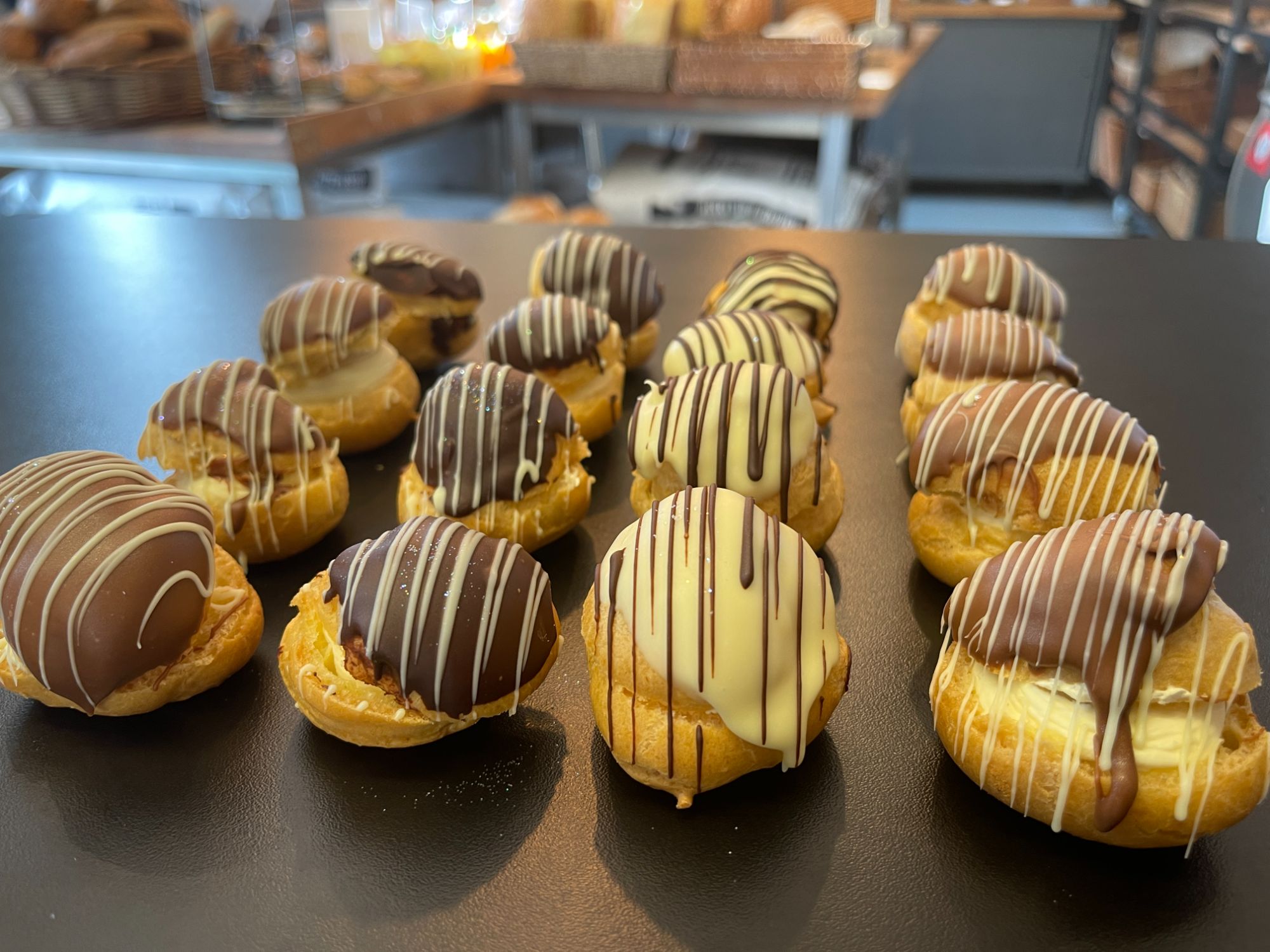 Mini choux bun filled with fresh cream. Serve individually on your dessert table, or we can portion three or more in a cup. Pictured here are dark chocolate with chocolate cream filling, milk chocolate and white chocolate but we can make other flavours and colours.
75p each.
A bite sized tarlette - pastry case filled with creme patissiere and topped with fresh fruit, mini lemon meringue tarts,
£1.50 each.