Our coffee shop is a great place to relax with a cup of tea & cake, catch up with friends over coffee or eat a light lunch. But if you don't have time to stay, then we can offer food to go.
There is no need to book, unless you are having Afternoon Tea, which needs to be reserved 24 hours beforehand.
The post-covid hospitality environment has forced us to make some changes and so, we are sorry, but we are no longer offering cooked breakfasts, etc., or waitress service. We are, however, still offering the same fabulous quality food (just a smaller menu) and look forward to you visiting us soon.
BACON ROLL £3.25
BACON SANDWICH £3.95
Prime back bacon in our freshly baked rolls or bread.
SAUSAGE IN A ROLL £3.95
SAUSAGE SANDWICH £4.80
Church's butchers premium cumberland sausages, in our freshly baked rolls or bread.
BREAKFAST PASTRIES
Fresh baked this morning
Plain Croissant £1.50 (out) £1.80 (in)
Almond Croissant £2.75 (out) £3.30 (in)
Pain au Chocolat £1.95 (out) £2.35 (in)
Pain au Raisin £2.45 (out) £2.95 (in)
TOAST & JAM £2.95
2 slices of thickly cut toasted bread, served with butter and jam.

BANANA BREAD £5.50
Home made banana bread, toasted & served with cinnamon butter.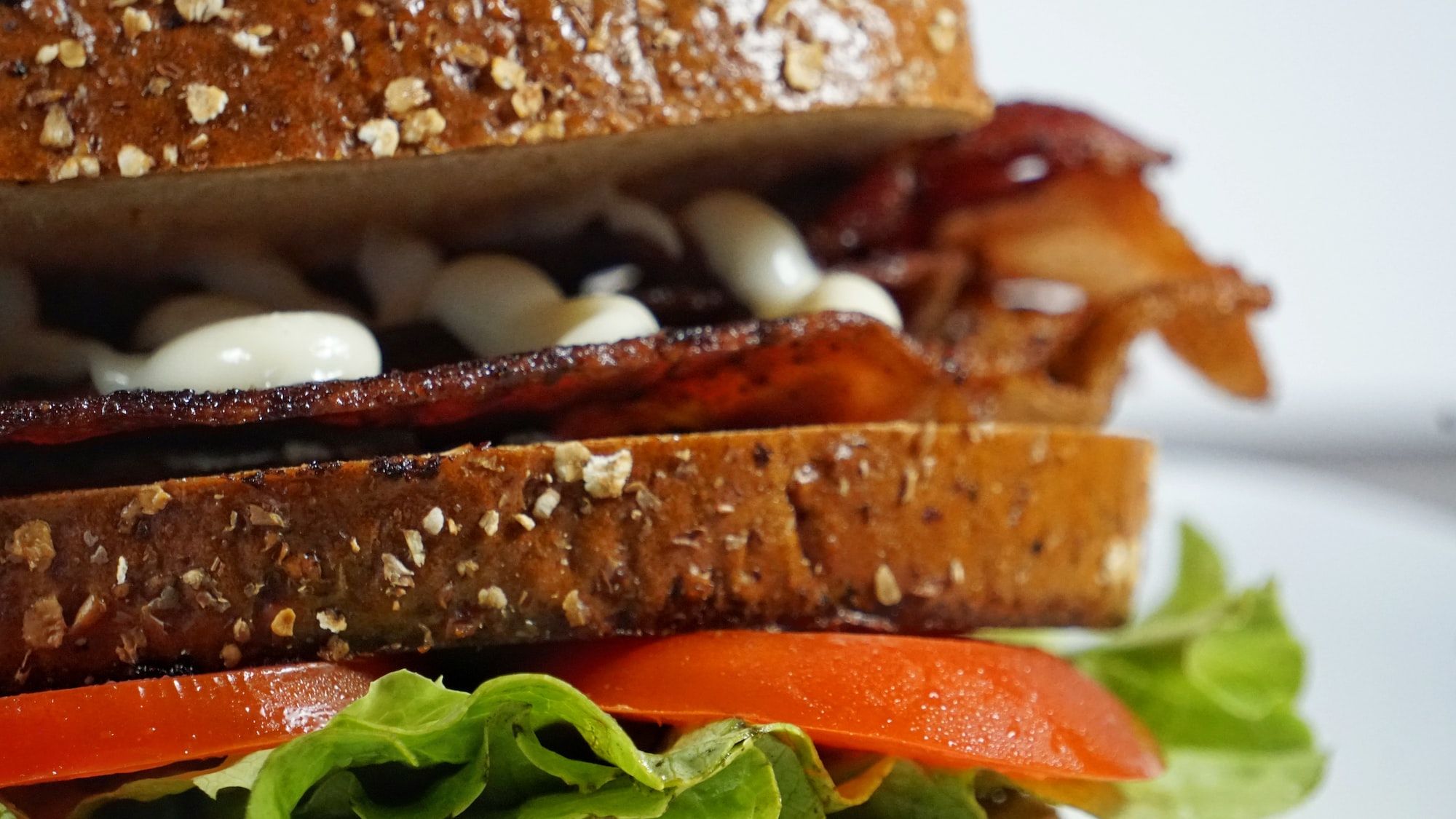 Lunch Sandwiches & Toasties
SANDWICHES
£3.75 (out) £4.50 (in)
Our signature sandwiches made on our freshly baked breads- choose from traditional white, six seed, wholemeal or sourdough.
BLT, Cheddar & red onion chutney, chicken salad with onion mayo, Coronation chicken, egg mayonnaise & cress, ham salad with mustard mayo, mixed roast peppers & red onion with hummus, tuna & sweetcorn mayo, prawn Rose Marie.
TOASTIES £4.75
Brie & bacon, Brie & chilli jam, ham & cheese, Halloumi with roasted veg & chilli jam, roasted veg & chorizo.
TRIPLE DECKER TOASTIE £5.75
Chicken, bacon & avocado
Bacon, lettuce & tomato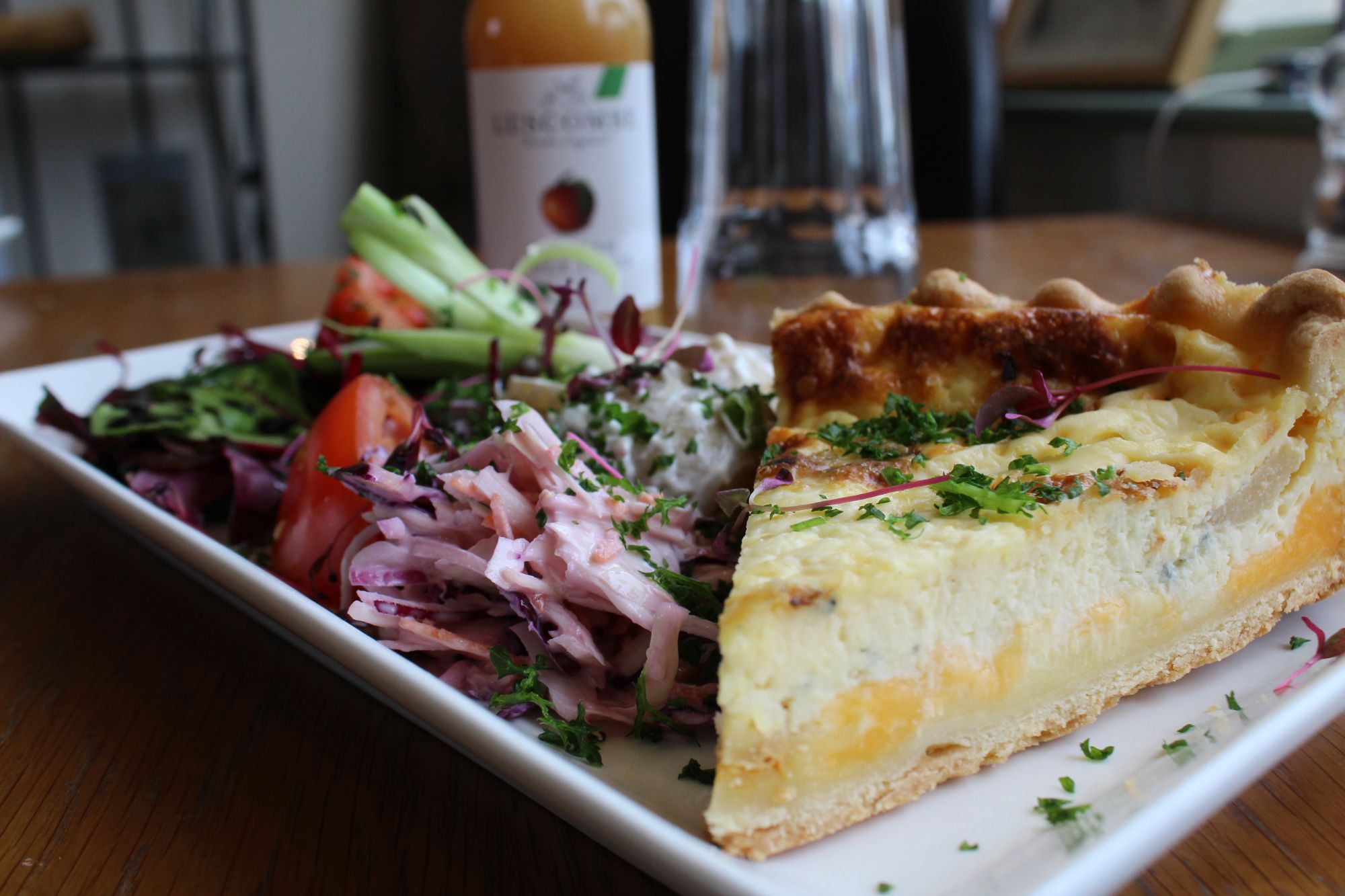 SOUP £4.50
Home made soup of the day.
Availability will vary but flavours include:
Cream of mushroom, sweet potato & red pepper, leek and potato, minestrone
served with a freshly baked roll or bread.
HOME MADE QUICHE £5.50
Availability will vary from day to day as we make it but we usually have cheese & bacon, asparagus & red pepper, stilton & pear, tomato & spring onion. Served with potato salad & salad leaf garnish.


SALADS £4.75 (out) £5.70 (in)
Chicken Caesar, salad Nicoise, chicken pesto pasta.
BAKED JACKET POTATO £4.45
Served with salad garnish & your choice of topping; cheddar & coleslaw, cheese & beans or tuna mayo.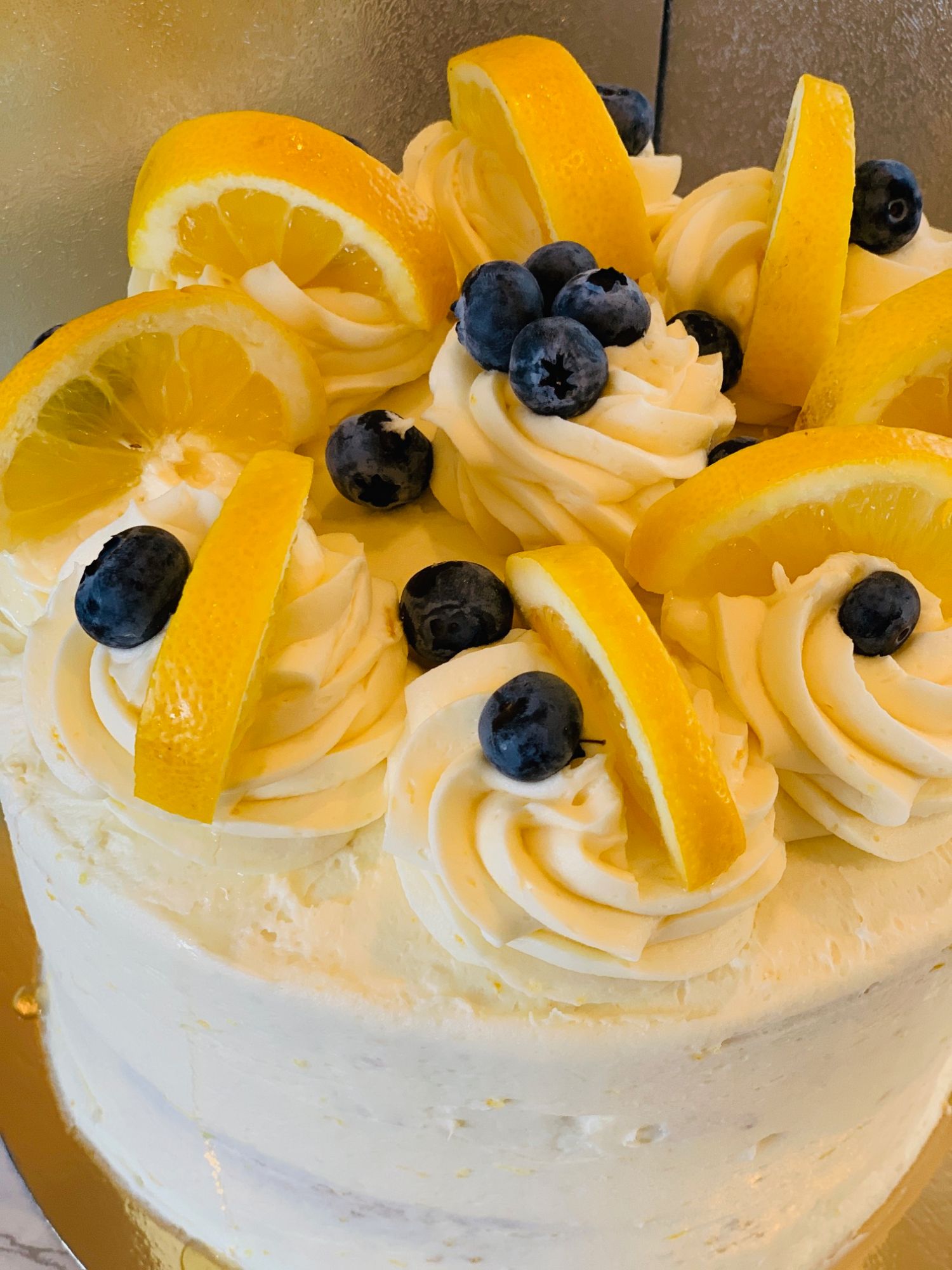 SLICE OF CAKE £3.25 (out) £3.90 (in)
We have a daily selection of cakes in our patisserie counter, layered sponge finished with buttercream.
Flavours vary from day to day but can include lemon & blueberry, coffee & walnut, Victoria sponge, Oreo sponge.
Dessert Cup £2.50 (out) £3.00 (in)
Chocolate mousse, English Trifle, Panna Cotta

Fresh Cream
Chocolate eclair £2.35 (out) £2.85 (in)
Scone filled with fresh cream & Jam £2.50 (out) £2.95 (in)
Apple turnover filled with fresh cream £2.50 (out) £2.95 (in)
Cheesecake £2.35 (out) £2.85 (in)
light & creamy cheesecake. Vanilla, chocolate or strawberry.
Cream Tea £4.95 (out) £5.95 (in)
Freshly baked scone, served with clotted cream and Jam, tea for one.


We bake a large range of traybakes, cakes & patisserie each day. Brownies, bread pud, Bakewell, cinnamon buns, London Cheesecakes, cutting cakes to eat by the slice.... the list goes on. If its not listed on the menu, you are welcome to browse through the Bakery & choose your sweet treat to either take home or eat in the Coffee Shop.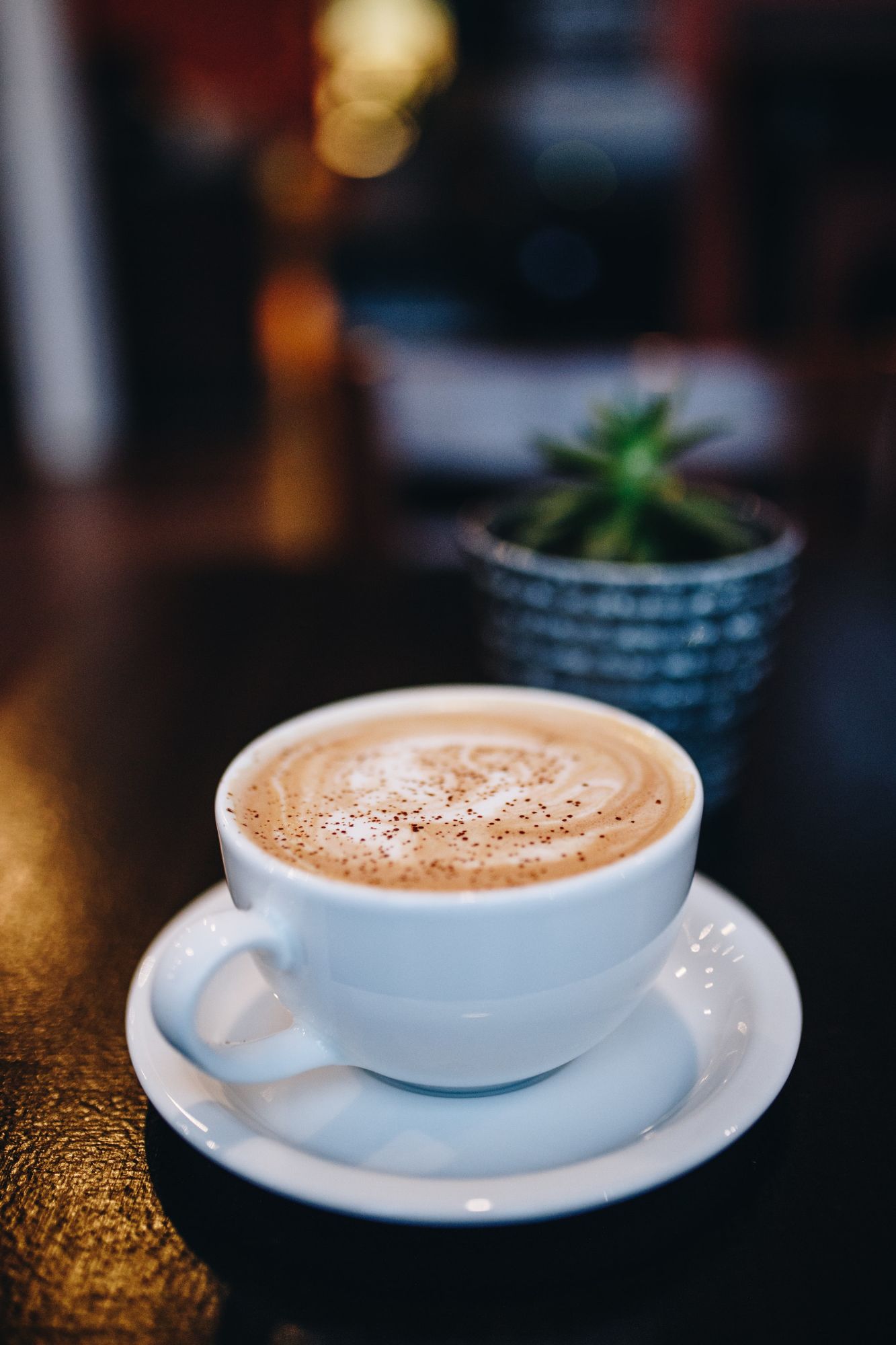 COFFEE
Cafe Latte £3.05
Cappuccino £3.05
Flat White £3.15
Americano £2.85
Espresso, double £1.95
Espresso, single £1.75
Mocha £3.25
Macchiato £3.05
Babyccino £1.50
Add caramel or hazelnut syrup 50p
Oat or soya milk to replace dairy 55p
TEA £2.45 (out) £2.95 (in)
Yorkshire breakfast
BREW tea breakfast blend
Earl Grey
Green Tea
Peppermint
HOT CHOCOLATE £3.25
add whipped cream & marshmallow topping 55p
SMOOTHIES £4.75
Cherry Berry, Matcha Power, Green Reviver, Coconut Crush, Sunshine Smoothie, Pineapple Sunset, Berry Burst, Mango dream.
MILKSHAKES £4.50
Chocolate, strawberry or vanilla
made with ice cream & whole milk
ICED COFFEE £3.90
SOFT DRINKS
Coke, original or diet, 330ml £1.15
San Pelligrino, 330ml £1.50
Orange, orange & pomegranate or lemon
Still or Sparkling water £1.95
Orange juice £2.00
Fentimans £1.95
Sparkling elderflower, Victorian Lemonade, Rose Lemonade
Cawstons apple & mango (carton) 99p
Appletiser £2.20
Sipp'd, apple juice or lemonade £2.99
WINE & BEER
Prosecco Rose, 20cl bottle £4.99
Prosecco Vino Spumante
20cl bottle £4.99
75cl bottle £13.99
Marcel Hubert Wine
dry white, Rose, Red
175cl glass £2.75
75cl bottle £9.99
Peroni 330ml £2.75
Doggie Menu
We now stock Sid & Ivy dog treats.
Individual treat £2.25. Great with a Puppuccino £1.65.
Doggie Sausage £1.20
Bagged dog treats £4.95