Marriage's are a family run flour millers, based in Chelmsford since 1824. Marriage's mill premium quality flour for bread making, cakes and pastry. We use their flours in our baking and stock the range for you to take home and use in your own kitchens.
Marriage's organic flours are certified by the Organic Food Federation. Much of the British wheat Marriage's use is sourced from local Essex farmers and from the Marriage family's own farms.
The Tiptree story begins around the early 1700s with Trewlands, the farm that was later to become the main site for jam-making in the Essex village of Tiptree. Wilkin & Sons have gone from strength to strength producing their excellent jams and supplying many countries around the world. A renewed focus on home-grown fruits has helped the farm to flourish and today, it grows more fruit than ever.
We have their range of jams and sauces available on our shelves in the Deli shop.
Thursday Cottage was started in 1963 in a cottage of the same name outside Spaxton, Somerset. Now based at Trewlands Farm in Tiptree, Essex, they still operate a small production unit where a variety of different preserves, curds and marmalades are made by hand.
The ingredients, the open pan cooking and the products' distinctive taste and character are little changed from when the company was based in the West Country.
A family farm based in Hertfordshire, Duchess Oil thinks about the relationship between farming and food, and how the gap between the two has grown. There is no mass production involved, the product is a combination of patience, luck and determination.
As well as it's higher burning point, rapeseed oil is rich in Omegas 3, 6, & 9. The health benefits of these fatty acids are wide-ranging, and contribute to the prevention of a number of chronic diseases.
They also have some resident bees, which produce a beautifully light and delicious honey from the wild flowers on the farm.
Made by Thursday Cottage , Jules & Sharpie products are hand made with good natural ingredients. They contain no additives, preservatives, colourings or flavourings; no salt or gluten. These versatile jellies, chutneys and sauces are suitable for vegetarians, vegans and coeliacs and can be used as an ingredient or condiment.
Scotch Bonnet chillies go into Jules & Sharpie products to give them a bit of a kick.
Founded in 1974, Cottage Delight began creating handmade fudge in the Staffordshire Moorlands. Over subsequent years, their passion for quality and tatse grew the range, includes jams, marmalades, curds, chutneys, table sauces and much more.
They believe that great taste makes great times, and great times are always worth celebrating!
The Luscombe estate has been a "hive of farming activity" since 1087, making an apperance on the Doomsday Book. Luscombe Drinks have continued to grow, creating a delicious set of drinks since 1975.
Apples have always been at the heart of Luscombe, with their traditional cider being made since the 12th century. Inspired to bring home the evocative flavours of abroad, they began crafting classic English soft drinks and juices from organic ingredients.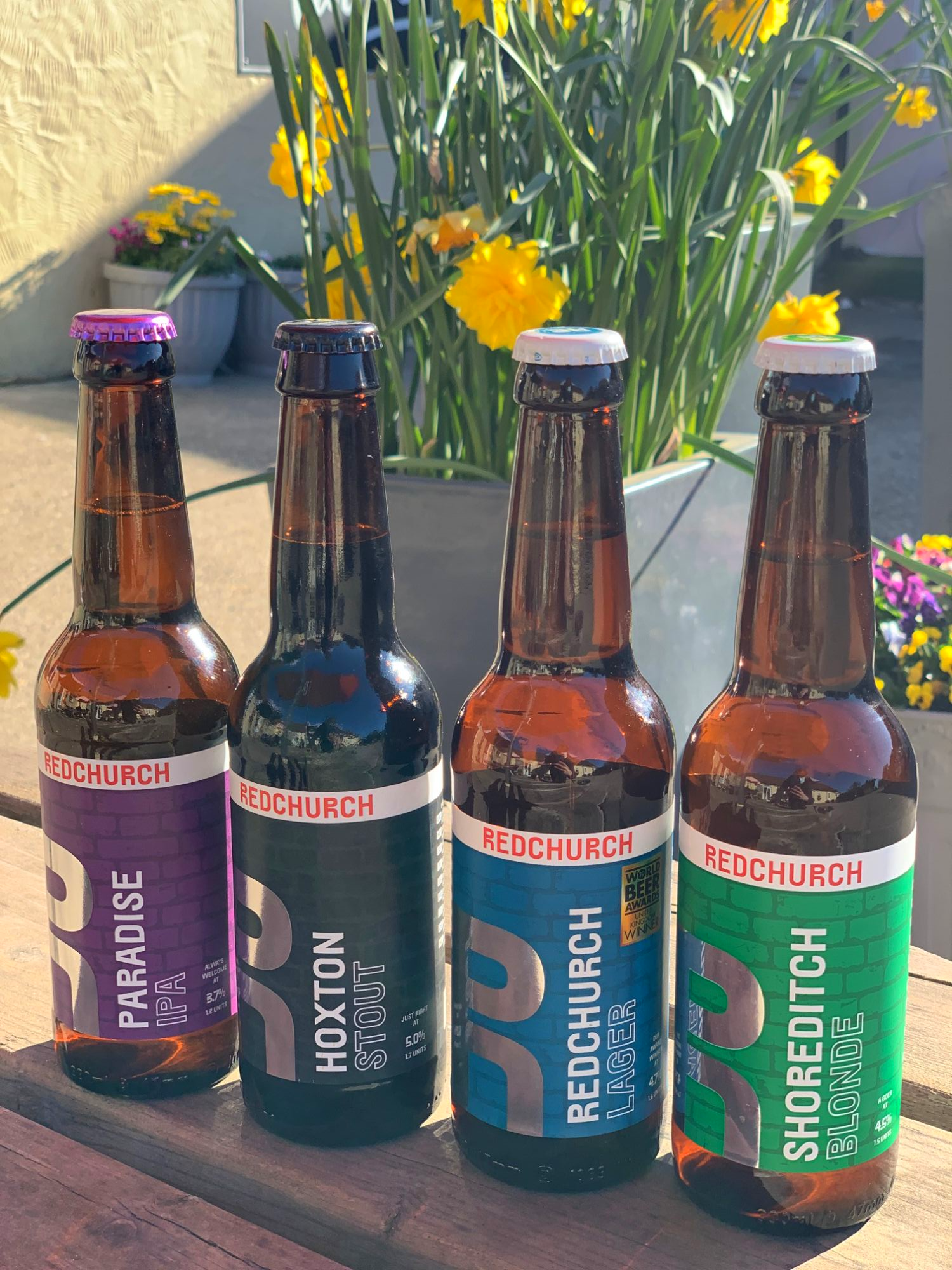 Redchurch is an independently owned, SALSA accredited, award winning UK brewery, committed to creating delicious, high quality beers. Their approach is simple, exceptional beers brewed with respect for the process and flavour.
Redchurch Brewery was founded in Redchurch Street, Shoreditch, London in 2011. Growth in sales led to a move to a purpose built modern 18,000 sq ft brewing facility located here in Harlow, Essex.